Get Your Raffle Tickets Now!
Thank you for supporting the South Baltimore Learning Center through the purchase of raffle tickets! Tickets are $50 for 1 or $100 for 3. Raffle showcases are valid through May 2021. The winners will be drawn and announced during a special Facebook LIVE event this Spring.
Tickets are just $50 each, or you can purchase three tickets for $100.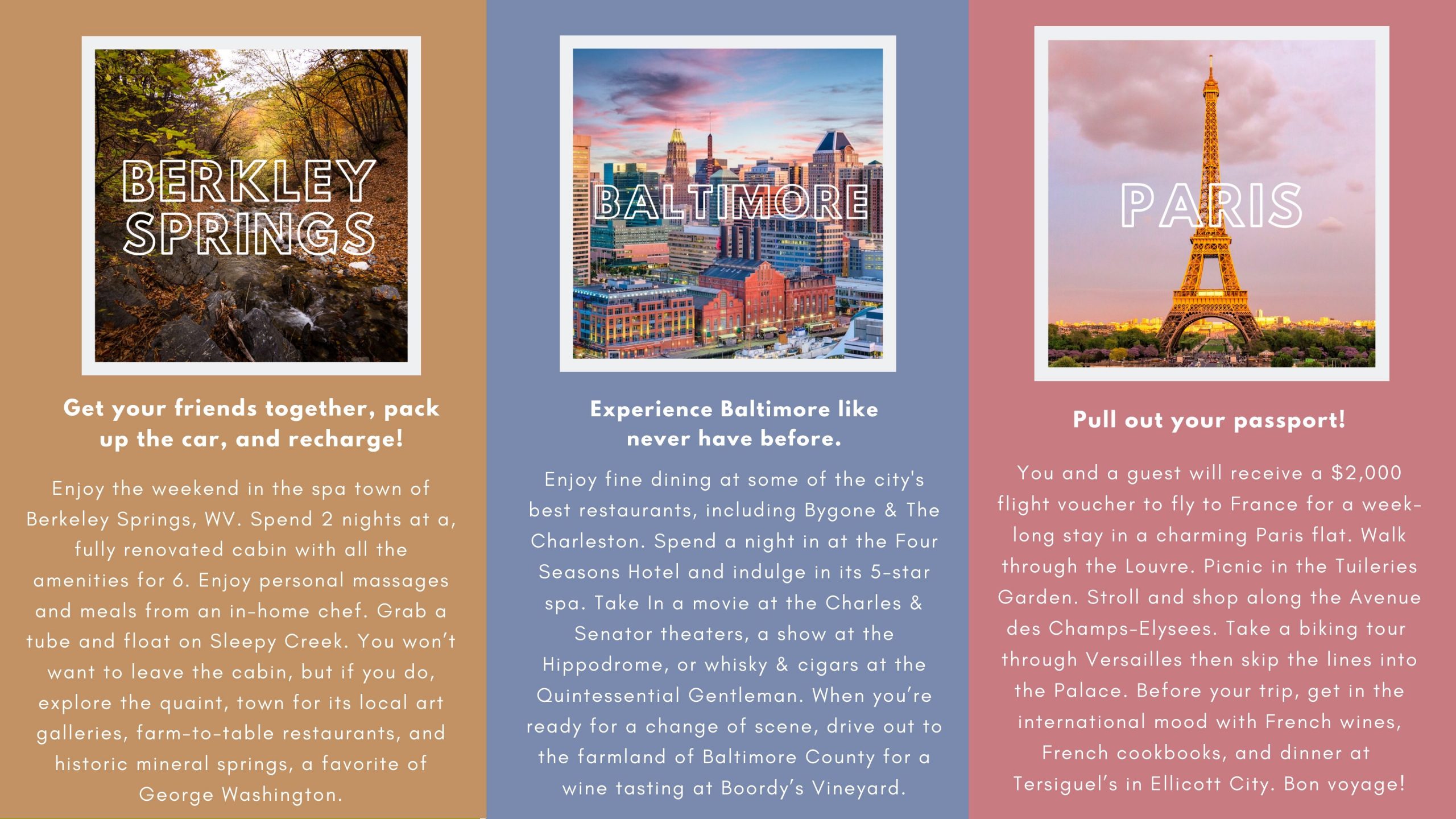 Experience Baltimore like you've never experienced before. Enjoy fine dining at some of Charm City's best restaurants, including Bygone and The Charleston. Spend a luxurious night in the Inner Harbor at the Four Seasons Hotel and indulge in its five-star spa. Treat yourself to a movie at the Charles and Senator theaters, a live show at the Hippodrome, or whisky and cigars at the Quintessential Gentleman. When you're ready for a change of scenery, drive out of the city and into the rolling farmland of Baltimore County for a complimentary wine tasting at Boordy's Vineyard.

Get your friends together, pack up the car, and recharge! Enjoy a relaxing weekend in the spa town of Berkeley Springs, WV. Spend two nights at a decadent, fully renovated cabin with all the amenities for six. Enjoy personal massages and meals from an in-home chef. Grab a tube and float on Sleepy Creek. You won't want to leave the cabin, but if you do, explore the quaint, charming town of Berkeley Springs for its local art galleries, farm-to-table restaurants, and historic mineral springs, a favorite of George Washington.

Pull out your passport! You and a guest will receive a $2,000 flight voucher to fly to France for a week-long stay in a charming Paris flat. Walk through the Louvre. Picnic in the Tuileries Garden. Stroll and shop along the Avenue des Champs-Elysees. Take a biking tour through Versailles then skip the lines into the Palace. Before your trip, get in the international mood with French wines, French cookbooks, and dinner at Tersiguel's in Ellicott City. Bon voyage!